Please check back regularly for new additions and updates.
By simply clicking on any of the highlighted links below in GREEN, further details and information can be found.
24 December -  Flyingbuck Stud  would like to wish everyone a very Merry Christmas and happy holidays - and as a new year approaches,  slainte mhath to you all in 2010!
24 November - The Stud is highly delighted to read in Eurodressage that FURSTENBALL,  the Champion of the 2008 Oldenburg Stallion Licensing and the sire we chose earlier this year for our tobiano broodmare, SEMPRA FB, reigned supreme in the Schlieckau, Germany  autumn 70-Day Performance Test !
On the final day, Friday 13th November 2009,
FURSTENBALL
proved his dominance not only as a dressage stallion but also as a very able cross country horse. With a score of 145,25 points in total, Paul Schockemohle's and Lone Boegh Henriksen's dark bay stallion blew away all competition - with 44 stallions completing the 70-day testing in Schlieckau, he outshone them all by miles!
The 3-year old FURSTENBALL is one of the very few stallions in Germany to have scored over 150 points for dressage. The Furst Heinrich x Donnerhall x Classiker offspring was awarded 154,99 points, scoring straight 9s and 10s for his basic gaits and rideability. For show jumping he performed well and got 113,81 points.
We have always felt that SEMPRA FB's 2010 foal by FURSTENBALL will be very special indeed and these latest spectacular results seem to support our judgment in choosing this particular sire!
10 October - Some unexpected but very welcome news for the Stud yesterday afternoon - our broodmare, MADEIRA FB, whom we thought was not in foal, has actually been scanned in foal to HOTLINE  - she was last inseminated on 24 June, so we are excitedly looking forward to her foal in the second half of May 2010. 
It will be a busy time for us at FLYINGBUCK STUD next season with 5 foals eagerly anticipated!
As with the foals from our other 4 mares, MADEIRA FB's  2010 foal is available to reserve in utero - more details on our FOALS 2010 page.
28 September -  Another delightful email with a photograph has been received by the Stud - this time from Sian Broderick of ANIMAL SNAPPER PHOTOGRAPHY. Sian went to visit our 2009 filly, SIENNA FB, (Scolari x His Highness x Longchamp), at her new home in Aberdeenshire and took the following fantastic photograph...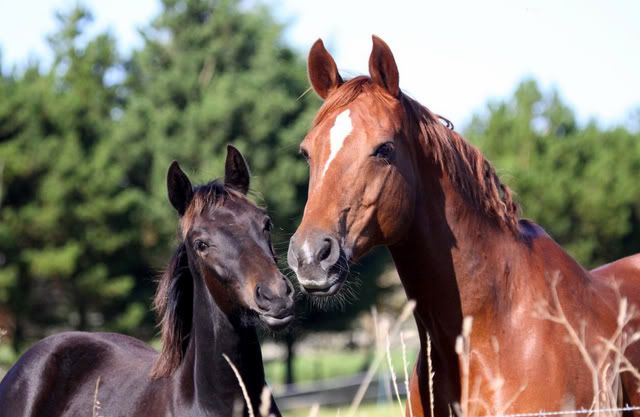 This shows SIENNA FB  with her new best friend,  Keiloch (or Fred to his friends!). Fred is an Arab x Bavarian Warmblood, homebred by Caroline Paton, and he just seems to have taken SIENNA FB under his wing. It gives us so much pleasure to see another of our babies looking so happy and settled in her new home.
Many thanks, Sian, once again!
23 September - We were delighted to be sent a photograph, shown below, taken last week of a filly we bred in 2008. SANTINA - (Samarant x Medoc x Watussi) - was purchased by Fiona Fyfe as a weanling and the Ayrshire grass certainly seems to suit this filly!
Fiona is very pleased with the way this filly is developing and that is very gratifying for us as breeders. It is fantastic to see
SANTINA
looking so well and happy - Fiona has told us that, as well as being very much a people person and having Fiona's other two horses for company, she is also friendly with Fiona's alpacas!!! Thank you for sharing this photograph with us, Fiona!
13 September -  It's that time of year again when we have to say goodbye to our weanlings. This afternoon, SIENNA FB, went north to begin her new life in Aberdeenshire. We are thrilled to have found such a wonderful home for her and look forward to hearing of her progress. We are also excited at the prospect of seeing her out next season in the show ring - we wish her new owners, Caroline and Davie Paton, the very best of luck with her.
06 September -  The Stud was delighted to welcome the BHHS Chairman, Mr Ted Green, and his wife to FLYINGBUCK today. Having been very complimentary about SIENNA FB, she was then branded and had a DNA sample taken as the next step in her BHHS registration.
01 September -  We have added a new page to our website! 
This has been named FOALS 2010 and gives details of our current four in utero foals and their due dates for 2010, along with pedigree details/videos etc of their dams and sires.
These may be reserved in utero if required - get ahead of the game and reserve yourself a fantastic future Flyingbuck foal now - please CONTACT US for further details.
31 August -  The Stud is delighted to announce that SIENNA FB has been sold. Many congratulations to her new owners!
25 August - SIENNA FB has been micro-chipped and has had her Foal ID completed today as the first part of her BHHS Registration. The Stud is looking forward to a visit from BHHS Chairman, Ted Green, on 06 September when SIENNA FB will be branded and have a DNA sample taken. This will allow her BHHS passport to be issued and her full Registration completed.
16 July - We have updated our SIRES USED 2009 page with full details of the outstanding, international, warmblood stallions that we have used on our BROODMARES this year. We hope that you can take the time to click on the GREEN links for more information on each stallion - if you do, we are confident that you will feel as excited as we do at the prospect of such wonderful foals that these pairings will bring in 2010.
15 July - We have decided that the 2009 DADDY COOL filly, DAZZLE FB, will be retained by the Stud. This superbly modern filly will be Graded and Performance Tested with the BHHS in due course and will hopefully have a very successful ridden career before becoming a highly valued addition to our BROODMARES.
08 July -  Many thanks to Ashley, owner of QUICKSTEP, for sending us some photographs of him in the Grand Parade of THE ROYAL HIGHLAND SHOW - a brilliant achievement at such a prestigious event in the showing calendar, all the more so as Ashley is a relative newcomer to the world of showing.
We have added Ashley's photographs to our GALLERY 2009 page.
01 July -  Success at THE ROYAL HIGHLAND SHOW continued for us on the last day, 28 June, when the coloured yearling, QUICKSTEP,  bred by FLYINGBUCK STUD in 2008, took third place in a very strong In Hand Coloured Yearling Class.
Congratulations once again to his very proud owner, Ashley Sinclair.
We will post photographs of QUICKSTEP in the Grand Parade in the Main Ring at THE ROYAL HIGHLAND SHOW in the next few days.
27 June -  THE ROYAL HIGHLAND SHOW 2009 got off to a fantastic start for FLYINGBUCK STUD on 25 June - our beautiful black broodmare, SPS HATARA FB, won the inaugural Sport Horse Broodmare class and her filly foal, SIENNA FB, took second place in the foal class. The foal was rather tired by the time her class came along and we feel this affected her performance - nonetheless, we are absolutely delighted with her and her excellent placing at her first "party".
To cap all of this, SPS HATARA FB,  then took RESERVE CHAMPION SPORT HORSE  - and we are naturally over the moon with her and this result.
The judge for the day was Dr Teunissen from the NRPS, Holland and his description of SPS HATARA FB just sums up this mare perfectly "....beautiful head, good walk and trot..... the complete Sport Horse"
SIENNA FB, her foal, also received high praise from Dr Teunissen, her good walk and trot being highly praised as was her very pretty head. Following such wonderful comments, our own initial assessment of this fabulous foal has been truly vindicated and we feel certain she will go on to a great future. This very pretty girl is FOR SALE .
Photographs have been added to our GALLERY 2009 page.
FLYINGBUCK STUD would like to thank Jessie and Aileen Singleton, Ayrshire, for all their help in producing and showing our stock to such a high standard at this year's Royal Highland Show - we are very grateful to them both for their invaluable assistance to Team FB.
13 June -  Ashley, owner of QUICKSTEP, has emailed us some photographs from Angus Show yesterday - you will find them on our GALLERY 2009 page. He continues to blossom as a yearling and is a credit to you Ashley - you have made us very proud!
12 June -  We are over the moon to learn that QUICKSTEP, our 2008 Quicksilber coloured colt out of our homozygous tobiano mare, GOLDEN SUNSHINE FB, has had a fantastic day at Angus Show.
He took first rosette in the Coloured In-hand 3 Years and Under Class and then went on to take Reserve Champion of the Section. QUICKSTEP also went on to prove that he can hold his own against the solid coloured horses by winning the Warmblood/Sport Horse 3 Years and Under Class too!!
We are absolutely delighted for Ashley, his owner - many congratulations!
Pictures will be posted later of this stunning chap.
05 June -  The Stud is very pleased to announce that we now have all our broodmares successfully scanned in foal for 2010, with the exception of MADEIRA FB, who will be inseminated in about 10 days time.
08 May -  GOLDEN SUNSHINE FB was artificially inseminated today and again joins the queue for scanning in 15 days time. If successfully in foal, this mare will produce a guaranteed coloured foal as she is homozygous.
07 May  -  Fantastic news for the Stud in that one of our broodmares, MAYBE FB, has been scanned in foal at 30 days, her second scan of the season, where a good, strong heartbeat was detected. A further two of our broodmares, SPS HATARA FB and SEMPRA FB, have also been artificially inseminated today and we are eagerly looking forward to their first scan in about 15 days time.
29 April - Very special professional photographs of our two new arrivals out in the sun have been added to our FOR SALE, FOALS 2009, and GALLERY 2009 pages - we hope that you will enjoy looking at them.
We send a massive 'THANK YOU' to Sian Broderick of Animal Snapper Photography for capturing our stock so well on her visit to FLYINGBUCK on 25 April and for giving us such a wonderful lasting impression of our 2009 babies!
25 April -  The Stud received a visit today from our professional photographer friend, Sian Broderick - we will post some of Sian's fabulous work here in the next day or so.
19 April -  Our second filly of 2009 has been named DAZZLE FB . We feel that this perfectly matches her already shining personality and we are certain that she will go on and dazzle us all in her later career. Our very good friend, Sian Broderick, of Animal Snapper Photography will be visiting Flyingbuck Stud very soon and we will post some of her wonderful photographs then.
16 April -  Once again, it gives us great pleasure to announce that our dark bay Hanoverian mare, MADEIRA FB, gave birth this morning at 9.30am to a fabulous filly foal by the very highly regarded Double Stallion Performance Test Winner, DADDY COOL. This most charming filly is bright bay at the moment, has 4 white socks, a star and has just captivated all of us here already. We will post pictures of this gorgeous filly later.
20 March -  Our first foal of 2009, a highly engaging filly by Scolari, has been named SIENNA FB. Pictures of this very pretty girl have been added to our FOALS 2009 page.
17 March  - We are delighted to announce that our gorgeous broodmare, SPS HATARA FB, produced a simply stunning filly foal at 4am this morning! She has 2 tiny white hind socks and no other white that we can see. Both mare and baby doing well!! We will post pictures of our wonderful new arrival very soon - needless to say, we are over the moon with this SCOLARI filly.
10 March -  Flyingbuck Stud has replaced it's former mobile telephone number and can now be contacted with immediate effect on.....07504 294447. The Stud landline remains unaltered.
06 March -  Excitement today at Flyingbuck as the breeding season now seems to be getting underway - our fabulous black Hanoverian mare SPS HATARA FB  is beginning to bag up. She is in foal to the wonderful young Sandro Hit son, SCOLARI. We will keep you all posted with any new developments as they happen.
19 February - Today sees the launch of our GUESTBOOK page. We would like to take this opportunity to invite our highly valued clients and visitors to sign in and add their names. Flyingbuck Stud welcomes all constructive comments, suggestions and queries and we look forward to hearing from you!
15 February - FLYINGBUCK STUD website celebrates it's first birthday today - here's to very many more happy and successful years advertising and marketing our superb stock online.
17 January - Just a few months before our first foals of 2009 are due to make an appearance, we have begun lambing at Flyingbuck ! To help keep the pasture sweet and well-managed for our horses, we also breed pedigree Suffolk sheep to cross-graze our paddocks. Moreover, by using a highly efficient worm counting system together with the benefits derived from cross-grazing, we can control and substantially reduce the worm burden of our horses without the overuse of chemical parasite controls.
Pictures of our lambs will be added soon to our GALLERY page.
14 January  - We are very pleased to have begun the New Year 2009 by adding sub-navigation to our NEWS, FOALS, BROODMARES and SIRES USED pages - we hope that this will make our website easier to view and give our visitors a more pleasant and enjoyable experience whilst browsing our site.