05 September -  We took advantage of the good weather yesterday afternoon and shot some video footage of our Surprice (Sir Donnerhall x Prince Thatch xx) dark bay colt foal whom we've named  SOCRATES  FB.
He is out of  our Hanoverian Head Studbook mare, MAYBE  (Medoc x Philippo x Lotse(Lugano l))
With the sweetest of temperaments, this charming young colt is bound to have a successful career ahead of him.
22 August -  We were delighted to see how well  SHOLTO FB  (San Amour x His Highness x Longchamp) has come on this season - sold by the Stud as a weanling, this yearling gelding was captured beautifully by Sian Broderick of Animal Snapper Photography a few days ago...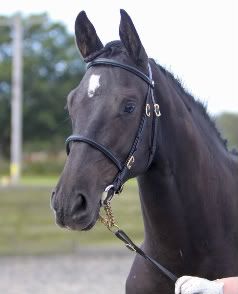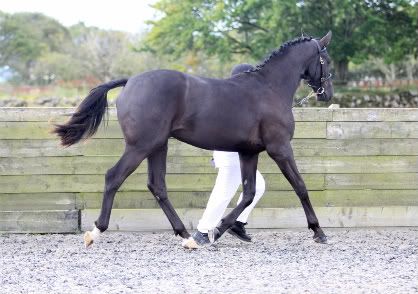 His dam,  St.Pr.St.  HATARA FB, is certainly producing premium stock every season - here is her 2009 filly, also sold as a weanling,  SIENNA  FB,  also pictured as a yearling by Sian Broderick...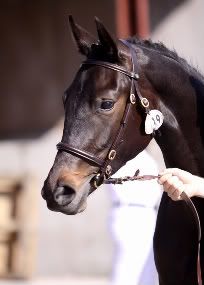 We currently have a 2011 black filly foal from  St.Pr.St. HATARA  FB,  whom we have named  SILKE  FB Her breeding is Sarkozy x His Highness x Longchamp and, as you would expect from such illustrious bloodlines, this filly foal is also premium quality and is  FOR SALE.
Please  CONTACT US  for further details.
13 July - Very good news from 3 clients of Flyingbuck Stud reached us recently...
Firstly we heard from Ashley, owner of  FLYINGBUCK QUICKSTEP (Quicksilber x Golden Sunshine) - Freddie won the 3 Year Old class at Wellbank Show, Dundee on Sunday 03 July - some very encouraging comments from the judge on the day, Fiona Wilson, Ayrshire, who felt that Freddie had HOYS potential - this just confirms our own thoughts about this son of a World Champion Showjumper!

Huge congratulations to Freddie and Ashley!

Secondly, good news reached us once again, this time from Echt, Skene and Midmar Show on 09 July - the very handsome gelding, SHOLTO  FB (San Amour x His Highness x Longchamp) won the Yearling Sport Horse class and thus qualified for the Scottish Sports Horse Championship Final at Blair Castle International Horse Trials and Country Fair on 18 August.
Very well done to Sholto and Helen!
                           Photograph above reproduced by kind permission of my good friend Moira Leggat 
Thirdly, and by no means least, we were very happy to hear news from the new owner of HOTWIRE  FB - Emma very kindly telephoned us to give us an update on how Monkey has been settling in, meeting new equine friends as well as developing a new routine with Emma.

She is delighted with how laid back he is - doing everything asked of him both in and out of the stable, with the farrier and with the vet.
This is music to our ears and proves once again that our philosophy here at Flyingbuck does work!
Many thanks to all 3 owners for taking the time to keep us updated - we wish you all many more successes, whether at home or in the ring.
01 July - We said a sad farewell to our HOTLINE yearling gelding, HOTWIRE  FB , this afternoon.     
Although it's always sad to see our youngstock go, (and this young chap, aka Monkey, has a very special place in our hearts), we also take comfort that they are going on to pastures new where their undoubted potential may be realised.
Monkey loaded very quickly and easily taking it all in his stride, as he has done with everything asked of him here.
Monkey is heading north to Aberdeenshire and will live with new owners Emma and Greig and their two other equines - many congratulations to you both!
We have been very lucky, once again, to find such a wonderful home for another of our babies - and with the promise of regular pics and updates, we couldn't be happier as breeders to sell to this lovely couple - all the very best of luck to them both for a long and successful partnership with Monkey!
07 June - Our final foal of 2011 arrived at 22.15 hrs last night, a full 2 weeks before her due date - a fabulously pretty bay filly foal by  SHEIKH  IT  out of   SEMPRA  FB.
We knew that  SEMPRA  was close to foaling last night when she was brought in for her supper  - and she was kind enough not to keep us up all night, producing a sweetly feminine filly at a very reasonable hour!
This filly, whom we have named  SCHERZINGER   FB,  has 3 white socks and a star and is already keeping her mum on her toes with her antics in the stable, even at one day old!
We are not so surprised by this, as her paternal grand-sire, STOLZENBERG, has just been awarded the Grande-Prize by the Hannoveraner Verband.
The Grande-Prize is to honour stallions aged 10 to 13 who already have a considerable influence on the Hanoverian breed in younger years.
Gerd Odlozinski from Neustadt was honoured with the Grande-Prize 2010. He is the breeder of the highly regarded stallion STOLZENBERG.   The Celle State Stud stallion was licensed in 2001 and is today successful with Hauptsattelmeister Joachim Winter in jumper classes up to advanced level.
STOLZENBERG  is currently one of the most popular show jumping stallions in Hanover with 160 points in the jumper breed value estimation. Vice Bundeschampion Shaitaan is one of his most successful offspring. More than 480 STOLZENBERG-progeny have been registered with the Hannoveraner Verband up to now.
We already feel confident that his grand-daughter, SCHERZINGER  FB  will be one to watch!

Pics of this delightful filly will be added shortly to her own dedicated page - just click on her name to be taken directly there.

03 June -  We thought that we would share a couple of photographs taken today of our HOTLINE yearling, HOTWIRE  FB.
Many thanks to Lesley McNaughton-Wells for her help in getting HOTWIRE (aka Monkey) tidy and ready for his close- up!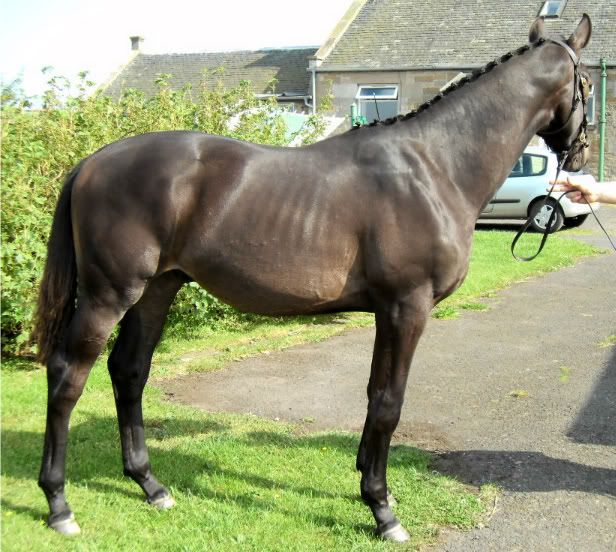 Photographs above reproduced with kind permission of Lesley McNaughton-Wells
HOTWIRE  FB  is  FOR  SALE  -  please  CONTACT  US for further details.
23 May - More good news for our orphan foal, SANTA CRUZ  FB - we have been very fortunate to find a wonderful new prospective foster mum for him, all thanks to Donna Pringle and her very pretty Highland pony mare, Falaire of Stanford (aka Fal).
Despite this being a very sad time for Donna, with Fal having lost beautiful twin filly foals yesterday, she readily offered her mare as a possible foster mum for CRUZ  -  thank you, Donna!
I have added a pic of Fal and CRUZ , taken yesterday evening around 24 hours after he first began suckling from her at two-hourly intervals - still a way to go yet, but we will keep providing regular updates of our progress.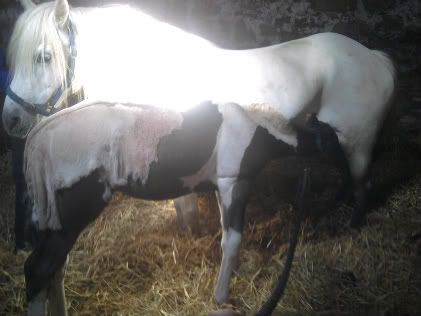 We also said 'farewell' yesterday to the huge Clydesdale mare, Meg, whom we unsuccessfully tried as a possible foster mum for CRUZ.
The Stud would like to thank Mr Dick Dargie for all his generosity, help and kindness in lending us Meg for a short time after the very sad loss of his filly foal - we greatly appreciated it and immensely enjoyed meeting Dick and his wife, Jean, and learning a little bit more about Heavy horses from a renowned Clydesdale owner, breeder and exhibitor.
We wish Dick all the best with his new filly foal from another of his mares, born on Friday morning - she sounds a real cracker!
13 May - For those of you who have been following the progress of our orphan foal, SANTA CRUZ  FB, here is the latest update...
CRUZ came back home to FLYINGBUCK on 11 May having been superbly looked after at Meikle Obney Stud since his dam sadly died on 29 April - we are eternally grateful to both Karen Paton of Meikle Obney Stud and Marty Paterson of Scotia Stud for all their hard work and kindness in taking such wonderful care of CRUZ - we had hoped to foster CRUZ onto one of the broodmares at Meikle Obney, but it unfortunately just wasn't to be.
CRUZ will now be raised here at home by us.
We think that he has come back to us looking just first-rate; here are a few recent pics of him taken by Marty...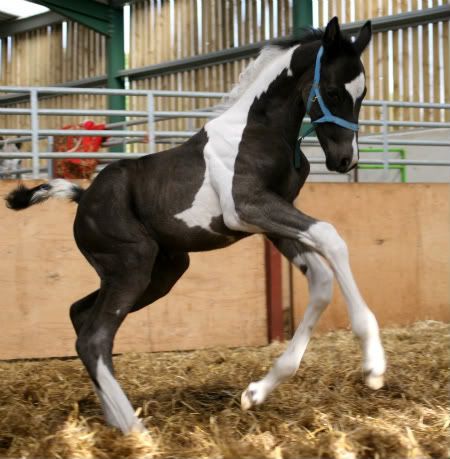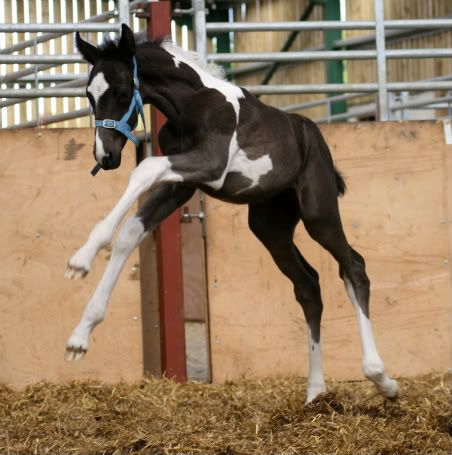 All 3 photographs above reproduced with kind permission of Marty Paterson
12 May - It was wonderful to receive an update today re our on-loan mare,  MADEIRA  FB ,  who is away with Karen McConnell of KA Equestrian  - MADEIRA  FB  has started work and is lungeing well and Karen even climbed aboard yesterday for the first time - we thought we would share these photographs with you...
                                      Both photographs above used with kind permission of Karen McConnell
05 May - We said farewell to our broodmare,  MADEIRA  FB , this afternoon - she has gone on loan for the next 12 months to Karen McConnell of KA Equestrian - we wish them both a very successful partnership together and look forward very much to seeing  MADEIRA  FB  under saddle again!
04 May  -  Many thanks to Ashley Sinclair, who purchased  QUICKSTEP  from the Stud in 2008 as a weanling colt, for sending us the following pic of him being long-reined at home.
By the 5 Year Old World Champion Showjumper 2005, QUICKSILBER , and out of our now sadly deceased homozygous Hessen Pinto mare, GOLDEN SUNSHINE  FB , he is the half-brother to our 2011 black tobiano colt foal, SANTA CRUZ  FB.
And just look at him now, standing at a little over 17hh... what a good lad he is!   
01 May - Today, we have been praising our good fortune in finding two fantastic ladies named Marty Paterson and Karen Paton, who have become new "aunties" to our tobiano colt foal, SANTA  CRUZ  FB.
Karen has sent a few pics, (thank you, Karen!), of this confident, handsome, young chap who is currently staying at her Meikle Obney Stud - we hope that you all like him as much as we do!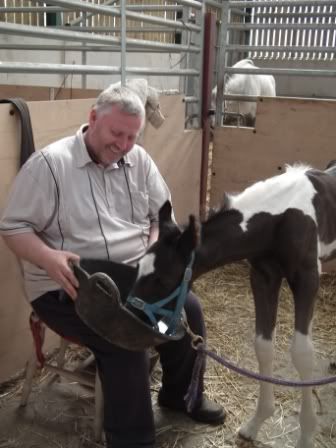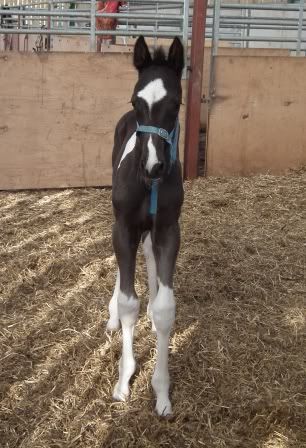 And my own personal favourite...
CRUZ and Auntie Marty have a well-deserved siesta in the afternoon sun - after all, all that milk drinking is very tiring stuff!!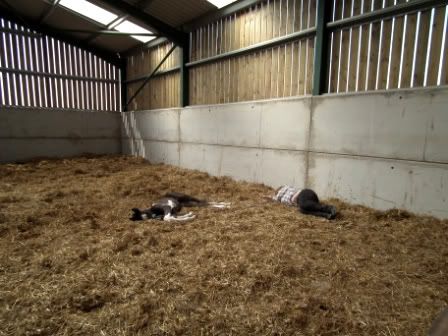 30 April
- More sad news for the Stud yesterday afternoon, 29 April - we had to make the heart-breaking decision, in conjuction with our vets, to have
GOLDEN SUNSHINE  FB
, (aka Golda), our much loved homozygous Hessen Pinto mare, put to sleep following very serious post-natal complications. 
Golda had been a much admired and valuable addition to our Stud since being imported from Germany in 2006 - she was always a very kind, willing and easy mare with a super-friendly disposition and temperament and thankfully she has passed on all of these desirable traits and so much more to the three foals that we have bred from her here.
We would like to express our sincere thanks to Jen at Loch Leven Equine for her help and support - and for her tact, understanding and kindness, both to Golda in her last days and to Sandy and I on the day, to Jacky Low-Mitchell of Balcormo Stud for helping us out with milk replacer, to Karen Paton of Meikle Obney Stud and Marty Paterson of Scotia Stud for their unbounded generosity and kindness in coming to our rescue to help Golda's four day old colt foal, more of which later.
Thanks also to Lesley McNaughton-Wells for her generosity and a shoulder when needed most, to Moira Leggat for her kindness, calmness and for always being there for us at the end of a phone, to Gayle Culross, Aileen Singleton, Caroline Paton and all of our friends who emailed, texted, phoned, left messages on Facebook etc - we are lucky to know you all.
Golda is sorely missed and will always be remembered.    RIP Golda - no more pain, our golden girl. xx
Golda leaves behind a very handsome, well-marked, healthy and strong, black tobiano colt, whom we have named  SANTA  CRUZ  FB.
26 April -  A very busy late evening and early morning for us over the 24/25 April with 2 more new arrivals!
First on the scene at 10.30pm on the 24 April was a really super bay colt with white star and 2 white socks - beautiful head and long legs.
He is out of our Hanoverian Head Studbook mare, MAYBE (Medoc x Philippo x Lotse) and by the Schockemöhle stallion, SURPRICE (Sandro Hit x Prince Thatch xx x Watzmann).
MAYBE has done us exceedingly proud this year once again (her 2010 filly, FIRENZA  FB , by FLORISCOUNT sold at just 5 weeks old!) and we feel certain that this fantastic colt will also prove rather popular.
Next to arrive at 5.15am on the 25 April was a big, strong, black tobiano colt, exceptionally well-marked and very handsome - he has a white star and snip.
Out of our Homozygous Hessen Pinto mare, GOLDEN SUNSHINE (by Golden Chief), he is also by the Schockemöhle stallion, SURPRICE.
This mare has thrown yet another quality, long-legged, charismatic coloured colt and he is a definite eye-catcher.
Please keep checking back as each of these FLYINGBUCK foals will have photgraphs added in the next day or so and will also have their own dedicated page on this site once we have decided upon a name for them.
We can now relax somewhat until our final foal of the 2011 season makes an appearance some time around the 20 June - SEMPRA (Semper x Sambuco B x Sancho), is looking well and happy, as always, and we are very much looking forward to her foal by SHEIKH IT (Stolzenberg x Escudo l x Goldfasan).
24 April -  Many thanks to all of our friends on Facebook for the many wonderful suggestions re a name for our new SARKOZY (Sandro Hit x Weltmeyer x Bogenschutze) x HATARA (His Highness x Longchamp x Bolero) filly.
This gorgeous girl has now been named...
SILKE  FB  (pronounced "Zeel-ke")
This is a diminutive of Cecilia/Celia, from the Latin "caelum", meaning "heavenly" - we think a very apt name for this heavenly filly!
She now has her own dedicated page on this site which can be reached by clicking on her name - lots of news pics will be added shortly.
We are also still awaiting the imminent arrival of 2 more foals here at FLYINGBUCK - but both of the mares concerned, GOLDEN SUNSHINE and MAYBE , are keeping us waiting despite showing signs of being near to foaling last night.
Fingers crossed that they both go quite soon and we can catch up on some much needed sleep!
23 April -  At last, some fantastic news to lift our spirits following our recent sadness - our State Premium mare, HATARA (His Highness x Longchamp x Bolero), presented us with a truly beautiful black filly by SARKOZY (Sandro Hit x Weltmeyer x Bogenschutze) on 22 April at 3am.
And to put the icing on the cake, this filly has a white star and snip on the end of her nose - a real show-stopper of a filly with an elite pedigree to match.
These pics were taken from a mobile - better pics will be added over the course of the next few days.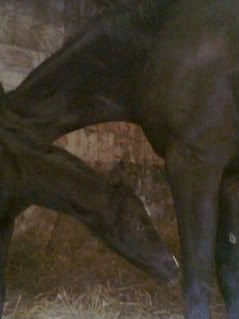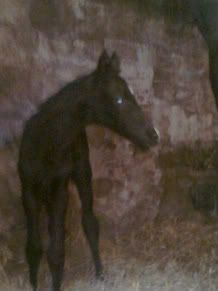 01 April -  With a very heavy heart, we have to announce the loss of one of our expected SHEIKH IT foals whilst in utero at 8 and a half months gestation.
Our wonderful Hanoverian Head Studbook and Performance Tested mare, MADEIRA, banged herself en route to the paddock a few days beforehand and obviously suffered more trauma than was realised at the time. We found her standing over her dead colt foal in her box first thing in the morning - a beautiful black colt with 4 even white socks and a star - just gut-wrenchingly sad for our darling mare and for what might have been...
We are very grateful to  Loch Leven Equine veterinary practice for all their superb efforts, without whom we would have surely lost MADEIRA too. After a week's stay as an in-patient at their practice, we finally got her back home in a remarkably fit and well state, considering all that she had been through. It had been touch and go at one point, though, as to whether or not she would survive owing to a partially retained but still very firmly attached placenta which, after all, had not been ready to detach for another 2 and a half months. Many thanks to Jen, Pete and all the team for ensuring our much loved girl came back home to us!
We had not intended to breed MADEIRA back again this season in any event, as her's was to have been a June foal and her third in as many years; however, circumstances have just reinforced our feelings of wanting to give her time off and she is being offered on a non-breeding loan for approximately 12 months.
28 February -  As it is not the policy of the stud to run on young colts, this morning, our 2010 HOTLINE colt, HOTWIRE FB, was successfully gelded - many thanks to Jen and Fraser from Loch Leven Equine.
HOTWIRE FB is offered FOR SALE - once he has completely recovered from his operation, we will post some up to date photographs of this very smart chap - a wonderful ridden career must surely await him.
27 February -  We are delighted to receive news today that the coloured gelding, QUICKSTEP, bred by the stud in 2008 has been sent away by his owner to be backed and ridden away.
This lovely chap, stable name Freddie, is now with Jane Gilchrist, Rait, Perthshire and is in wonderful hands - we very much look forward to sharing photographs of him under saddle very soon!
QUICKSTEP, out of our homozygous coloured mare, GOLDEN SUNSHINE FB and by the World Champion 5 Year Old Showjumper 2005, QUICKSILBER, has always had the best of temperaments and we feel sure that this passes down from the mare - indeed, this is one of the reasons that confirmed our decision to retain GOLDEN SUNSHINE FB's 2010 filly, FANTASIA FB, by FLORISCOUNT - she has the same wonderful, easy temperament combined with her sire's outstanding movement.
GOLDEN SUNSHINE FB is in foal to Paul Schockemohle's SURPRICE for an April 2011 coloured foal - we can't wait to see what she will produce this season!
Many of you on the Scottish showing circuit will need no reminder of QUICKSTEP, but here he is as a yearling in 2009 at the Royal Highland Show, where he was placed 3rd in very good company...
06 January - Now that the festive season celebrations have come to an end, we set our sights excitedly towards the beginning of our breeding season in April.
We are lucky enough to have 3 of our  BROODMARES  due in April and a further 2 due in June -  we know from past experience that the time is not long in coming in and we will soon be welcoming our new arrivals.
All of the mares are looking well and healthy and appear to have come through the recent very cold spell with no adverse effects.
Full details of our expected arrivals can be found on our  FOALS 2011  page.
01 January - We would like to wish all of our clients, family, and friends a very Happy New Year 2011 and hope that the coming year will be successful and happy for us all.