At 3am on 22 April 2011, our precious State Premium/Elite Hanoverian Mare, HATARA  FB (His Highness x Longchamp x Bolero), presented us yet again with another outstanding foal - this time a gorgeous black filly foal by SARKOZY (Sandro Hit x Weltmeyer x Bogenschutze).

One look at this charming filly's pedigree should say it all - Sandro Hit, Weltmeyer, Caprimond, Donnerhall, Hohenstein, Lauries Crusader, Bolero to name but a few.

Of course, as you may all know, her sire   SARKOZY   was the resplendent Hanover Riding Horse Champion in 2009 and was also the celebrated Vice Bundeschampion in the same year. Moreover, he was awarded 9.9 for all his basic paces at the Bundeschampionat!

Her dam,  HATARA FB  was Best 3 Year Old Mare at the Mare Show, Adelheidsdorf, Celle, Germany in 2007 - she then went on to become Reserve Champion of the whole Mare Show from 62 mares forward - a superb result!
She has also twice been Champion Sport Horse Broodmare at the Royal Highland Show - the only times shown in the UK.
She is just the sweetest, most perfect filly imaginable - complete with white star and also a snip on the end of her nose  - and huge long eyelashes! Very feminine and very, very pretty.
This filly just shouts quality and class as you would expect from such elite warmblood breeding, with a pedigree full of Champion stallions and State Premium/Elite mares.
To say we are absolutely delighted with the development of this simply stunning filly would be a massive understatement - she is all that we had wished for...and then some!
                                        Here she is as a 2 year old, taken on 27 July 2013.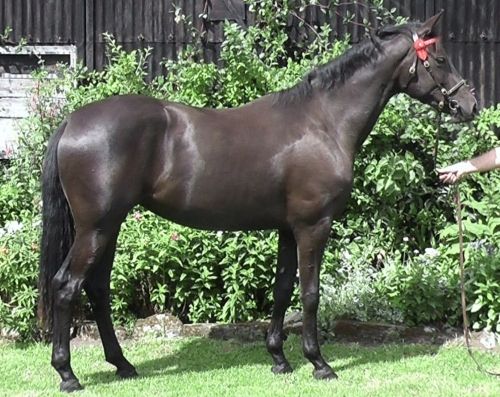 The following 2 pics are of  SILKE  FB   as a yearling, taken in September 2012.
 And here she is at just 12 hours old  - taken with our mobile phone, so please excuse the quality of these last 3 pics.